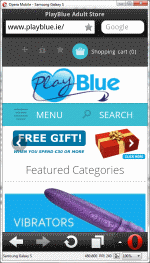 We have listened and reacted to what our customers want. The single biggest request we got was to make the site more accessible to mobile users who make up a larger and larger part of our users.
We now have a fully 'responsive' website which means the website presents itself to best suit your screen size. This is all done automatically just flip your tablet or phone from portrait to landscape to see it in action, cool huh?
We hope you like the new design and it helps making shopping with PlayBlue easier and more enjoyable. You will notice that the whole website has been redesigned with ease of use and navigation the guiding motive.
We have also reorganised our Free Gifts policy to enable us to serve you better. When you qualify for a free gift (spend €30) a free gift item is automatically added to your basket no need for you to do anything. We will then include one of our Free Gifts into the order. The idea is meant to be that the Free Gift is a little surprise when you open the parcel and our way of saying thanks for ordering from PlayBlue. You can read all about our exclusive free gifts here.
TO continue the theme of change and upgrade we have also changed our main Payments Provider to Sage Pay to improve security and to enable us to accept more cards options. We have integrated Sage Pay directly onto the website so it should look almost seamless when checking out, but rest assured payments are still performed off site on Sage Pay servers so we don't see your card information and obviously then can never store it. Yoy can still of course checkout with PayPal and Postal Orders.
If you have any comments or suggestions on the new design please drop us an email or call us we'd be delighted to hear from you.