Bondage for Beginners Guide
Bondage for Beginners
With the Fifty Shades of Grey movie out at the weekend inevitably there is going to be more interest in replaying some of the scenes from the movie in bedrooms across the country.
Bondage Toys may conjure images of pain, a sexual underground that you might or might not be interested. Fifty Shades of Grey (FSoG) is basically a mild enough bondage role-playing that should not terrify anyone and with a little care and thought is something that most consensual sexual relationships shouldn't rule out.
How Far Can You Go?
Bondage sex play has many different levels and there is sure to be one that you are both comfortable with. From blindfolds and feather ticklers through to Water-sports and beyond you should only go as far as you both are comfortable. Bondage is about relinquishing some control to your partner but must be done in a trusting and respectful way ensuring that both of you remain consensual.
Where do I Start?
Like nearly everything else you'll ever try at the start. Our advice is start small, let me outline some of the most common and easiest to use Bondage Sex Toys that really should not frighten anyone.
Blindfold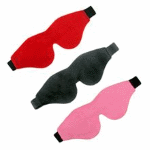 This is an absolute must and probably the best fetish sex toy you'll ever get. It has been proven that once you lose your ability to see the rest of your senses are heightened and the anticipation of not knowing where the next caress will come is a real turn on.
Simple Masks can be purchased for as little as a few euro.
Cuffs / Restraints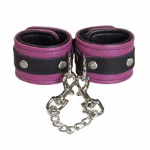 From a simple pair of cuffs (nearly all have a safety release) to under the bed restraints coupled with a blindfold is probably one of the most common fantasies and the loss of control meaning you just have to succumb to the pleasure you are receiving can mean you really let go.
A set of cuffs start at about €8 upwards and under the bed restraints which are really handy and great for spur of the moment passion sessions as they are always ready. They start from about €40. Full selection of restraints are here
Whips / Floggers / Paddles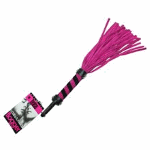 Whether it is the contrast between a light caress followed by a slight sting of a whip alerts the senses and makes an erotic area even more sensitive, a slapping or whipping sex toy can really make for exciting sex play. The tingle of a newly slapped bum offers its own rewards and pleasure nearly always follows the punishment.
Used in many role-playing and power play games a small bit of pain can really make the pleasure even better. Obviously a little care is required here to ensure that you do not hurt your partner and only offer the pain as far as agreed. Whips and paddles can be had for as little as €7 up-to €30-40 for a quality leather paddle or metal handled whip. Check out our selection here
Bondage Kits
A handy way to introduce yourself into the world of fetish sex toys is to get one of the many bondage kits available. Most will contain at least a mask, a restraint and a whip. Others have a load more so just be careful and don't go too mad for the first time.
At PlayBlue without blowing our own trumpet we actually do our own Bondage Kit too.
OK I'm not a Total Newbie!
Past the beginners toys is where the amount available is staggering but everything will not be for you. There are toys to suit every fetish and taste so our advice is have a look, if you are not even a little intrigued move on it's probably not for you.
I'll go through a few of the more advanced and niche bondage toys  
Gags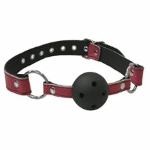 Often included in bondage kits and could possibly make a beginners bondage toy but for there is going to be a segment of customers who would never wear a gag. Gag's are designed to either keep your partner quiet or to keep their mouth open. Usually the keep your partner quiet variety are ball gags and can be latex, breathable or solid which restrict your partner be stuffing their mouth full of a ball. Again we are talking a control or dungeon/servant role-playing sex toy with possible uses as a punishment or something that needs to be earned.
Other gags keep your partners mouth open for use in some water sports or forced feeding again not for everyone but you'll know yourself.
Gags are relatively cheap and start at about €10.
Hoods
A more advanced role-play version of a mask and also used as dress up in dungeon play. The variety here includes Hangman's Mask to Gas Mask to Lycra Hoods and full face hoods. Offer a little more than a blindfold and can be used more in S&M sex play but basically the same devices. Prices start at around €15.
Chastity / Cock Cages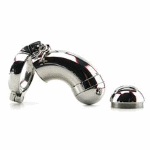 Most chastity sex toys are actually for men not women as you would imagine. These are sex toys where the wearer gives up control of their ability to achieve sexual pleasure through either intercourse or masturbation with the idea that a period of enforced abstinence will heighten the sexual tension and pleasure when release finally comes.
Cock cages work usually be trapping the soft penis inside a stainless steel metal cage so he cannot achieve an erection. Then release might need to be earned.
Prices vary but start at around €80
Bondage Ties, Clamps & Swings
There are literally hundreds of various bondage sex ties like Hogtie systems which trap the wearers hands and feet together to leave them very prone. There are Clamps for nipples and clitoris that will also sometimes vibrate to again heighten sexual pleasure.
Sex swings that can either be used with a door or free standing that enable you to achieve a weightless positions for some very unusual sexual positions and manipulations.
Pussy, Breast and Clit pumps to engorge the pumped area to make them super sensitive and much more exposed.
All the way to spead-'em bars that force the wearer to keep their legs wide open using a bar with each foot tied to either end.
Again not all these sex toys are going to be for you but each to their own among consenting adults at PlayBlue. To see our full selection please checkout the Bondage and Fetish areas on PlayBlue Sex Shop.
Is that it Are we Done?
Well there are loads more we could talk about like body suits and electro stimulation to doctor/medical fetish toys but as a taster into what Bondage is all about and whether it's for you I think we might leave it there.
If you are interested in any of these products checkout our Bondage section and any questions as usual of course you can contact us at PlayBlue we're here to help.