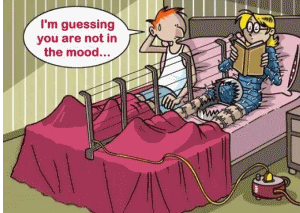 You often in this business hear a statistic like 53% of women in the UK have a vibrator. This is usually put forward to explain how mainstream and common it has become. I've used it myself, my favourite is that more women have a vibrator than an iPhone.
I was thinking about how to grow our business and get more people enjoying the PlayBlue effect when I thought hang on that means approximately 47% of women don't have a vibrator and a huge percentage of them have never tried them. There is an opportunity.
Why do people try a vibrator then give up?
Back in the nineties when vibrators were beginning to come into mainstream many tried them and to be honest they weren't great. Either hard metal or plastic with a buzzing kind of vibration that becomes annoying very quickly. They were also cheap tatty objects that you were lucky if they lasted a week. This was not a great first impression to vibrators.
In Ireland we also had the church trying its best to suppress the great evil that is sex and instilled a catholic guilt in most people over the age of 35 that hindered many in trying out sex toys.
A second chance
I would love if people who have never tried a vibrator or had a bad first impression came back and saw what is available now. The selection is just incredible, with everything from the cheap plastic 90's replicas to couples internet enabled vibrators.
The difference and control you have of the experience now makes sure that there really is a vibrator that you will love, the trick is you may have to experiment a bit to find out exactly which one it is.
How to find the perfect vibrator
First off accept that you probably won't get your perfect partner first time out, this first vibrator is about figuring out exactly what kind of stimulation and texture you like best. We have a section for newbies that has a great selection but I think you should also do a little research. Checkout our vibrators guide to help you understand what is on offer.
The normal rules apply, don't spend too much money first time and don't go too big. Go for a vibrator with a few speeds so you can try it out and best with a sleeve so you can try with and without the sleeve.
The one thing I'm going to ask is please you really need to use a little lube it will enhance the experience 100 fold and gives you the best chance of success.
Once you find out what works best you can always get a vibrator that will pleasure you in the exact manner you like best. Many women end up with a collection with different functions that you can choose based on the mood you are in.