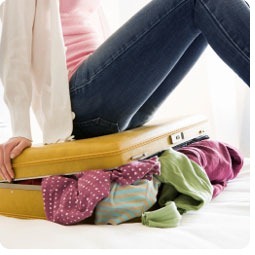 I wanted to write this article for the last few months but with the weather the way it's been I just couldn't bring myself to start talking about the holidays.
Well it's a bank holiday weekend, I'm in Kilkenny Cat's Laughs this weekend and the sun is out.
Holidays and sex toys you'd think were a match made in heaven but you really got to be careful there are a few pitfalls.
First let's start with the obvious one which starts before you even leave home. You might love your gorgeous 10" Realistic Dildo but packing it will be a real pain and it'll take up a fair bit of room. For holidays your little buddies are what you are looking for small is best.
Next take the batteries out of all toys, you DO NOT want them to accidently turn on as it will be at a minimum an embarrassment or worse it could be considered suspicious and cause an alert, now that is something you do not want to get involved in.
Bring your own lube. You have a lube you like and trust bring it, don't rely on buying one out there you really don't know what you'll get or even if you can get it. Remember though it should be packed in a plastic bag in the luggage and not carry-on due to liquid bans on most airlines.

Consider the cultural responses to sex toys in the country you are visiting, for instance some countries can very much frown on sex toys and consider them borderline illegal items so be cognisant of the local customs and laws.

Don't bring them on the carry-on bag as it will be x-rayed and you will possibly be searched. You do not want to be standing at security with someone pulling your favourite vibrator out of your hand bag for all to see.
No sharp or pointy objects these or course could be considered weapons and would probably be illegal to carry so be sensible.
But do bring sex toys with a little common sense and preparation there will be no problems. My holiday favourites are a Remote Egg, just great fun on a night out. My We-Vibe well it's holidays isn't it? and well you get the idea. A little bullet, it's so versatile and easy to carry. Finally some scented massage oil, if you don't get a chance to relax on holidays when will you?
Update: I started this article late Thursday evening and then went to publish it Friday morning, The weather has turned already and the idea of a getaway is more appealing than ever.