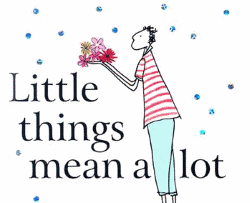 I wanted to focus on the little things this week. Because it really is the little things that will make or break a relationship in the end. At PlayBlue we believe it is all the little things that will give you a great sex shop experience with us and we try to make sure all the little things in making a sex shop purchase are perfect with PlayBlue.
Most people buy based on price and choice which is why PlayBlue is Ireland's number one online adult store, But if we then followed up the sale with a load of empty promises or were in-contactable or we failed miserably on delivery our cheap prices would not be enough to tempt you back again and we would have a very short reign as Irelands best.
At PlayBlue we have a manic focus on the little things in making sure we over deliver to our customers. Our delivery stats for January so far prove we're getting even better at dispatching orders next day with just over 95% or orders getting out next day. This has been a big focus the last few months and we're delighted we seem to be getting there but it is only one battle ground.
We answer emails quickly, we man the phone lines and the online chat lines trying to make it super easy for customers to contact us, it helps us and you sort out any questions or problems you have to make sure you are going to be happy with the product you purchase.
Our returns process has had an overhaul the last few weeks as I admit it sometimes has lets us down in the past with our response delay to returns, but now I can guarantee we will be much better we will process returns the same day they arrive in a fair and discreet manner.
The big thing I think we do better than anyone though is we apologise when we do something wrong. We do make mistakes and even though with the systems we have in place we hope to cut 99% of them out, mistakes are a fact of life. It is how we deal with mistakes that is important. We will always try our best to make things right and communicate.
So what I'm really saying is, do come and shop with PlayBlue for the lowest priced sex toys and the widest selection with free gifts and free discreet delivery, but it's our customer service and personal touch that will make the experience of shopping with PlayBlue so much better and make us your sex shop of choice for future purchases.