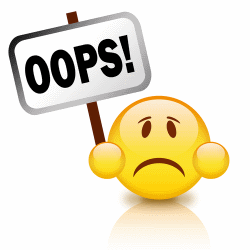 Sex Shops in Ireland generally do a lot wrong. The expectation of many buying from a sex shop is that it will be low class, pricey and run by crooks. (Add: Some of our competitors got a bit upset over this statement. I would add that this IS a perception of the whole industry of which PlayBlue is a part, it is up to us all to change that perception)
Well PlayBlue is very different. We have always tried to do everything right and have always focused on the customer and our product and service offerings.
Here are the Big Mistakes we believe sex shops make.
Back Alley Shops with a Back Alley Mentality
Sex Shops in Ireland have tended to be low rent affairs where the shop and mentality of the staff is very much back alley. They are often run and staffed by people who act like they are running something illegal. This mentality has moved with these sex shop online too and their websites really offer very little security or comfort.
They also seem to see their customers as dirty middle aged men to be looked down upon.
PlayBlue is Different
We know our customer and treat everyone the same. Over 60% of our online customers are women and 56% of our in store customers are women. We have actually trained our staff they know the products and are there to help.
We are very proud of PlayBlue and have always tried to design our experience as a classy mainstream business. We see our business as a shop there to help people and couples enjoy better sex lives and have a little fun.
Treat Customers as targets for cash extraction
Traditional sex shops in Ireland usually have a limited market and need to extract a very good margin off each customer to survive. This means high prices and a short term view. This has damaged the market in general as people will see sex toys as plasticy expensive rubbish.
PlayBlue is Different
Our market is not the local high street, it is everyone. We price our products with a view to offering the absolutely best value possible. Customers are to be nurtured, helped and given a fantastic experience so they will return. We sell a large range from designer to low priced reliable sex toys all sure to satisfy.
Online is an Add-on
Most online sex shops in Ireland are just add-on websites to existing sex shops, and they offer nothing different, including the same high prices and bad customer experience. Delivery will be anywhere from 5-10 days (if ever) and try ringing or emailing about your order and you'll be confronted with total confusion.
PlayBlue is Different
For us the online business came first. We come from a technology background with years of experience in the sex toy industry. We understand that the online shopping experience needs to be every bit as easy and friendly as our high street store.
We deliver over 94% of orders same or next day. We are truly obsessed with giving the best customer support and our staff really are there to help.
Offer No Choice or Information
Try to buy a vibrator in a sex shop in Ireland either online (excluding PlayBlue) or in your local shop and you'll be offered the choice of about 10. If you ask a question about anything you will be confronted with a blank stare from a twenty-something who has just looked up from their smart phone.
We are not all the same but evidently we all what the same sex toys???
PlayBlue is Different
We have over 3,700 products online with constant daily additions. We work with all the biggest suppliers in the world and being the largest in Ireland has allowed us to ensure our customers get the best selection at the lowest prices.
Even in store you will be amazed at the selection on offer. Our staff will always welcome you in store and are only delighted to answer any questions you might have.
Any of Rubbish will Do
Most sex shops in Ireland online or in the high street buy their products from literally anyone. There are a huge amount of knock-offs and cheap Chinese rubbish that is sold at full price in these shops.
Lingerie is also nearly all cheap Chinese stock that will never look anything like what you expect.
PlayBlue is Different
We only buy our products off the most reputable wholesalers or directly from the manufacturer. We will only ever sell original products. We have a very comprehensive returns system too so if a product caused a couple of customer problems it is dropped from our selection.
If you visit or shop with PlayBlue you can expect a very different experience to the run of the mill sex shop experience in Ireland and we would love the chance to prove it to you. Not all sex shops in Ireland are the same, shop from the best with PlayBlue.