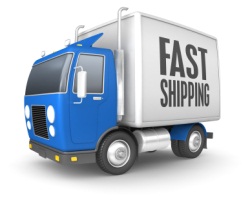 One of the biggest concerns from our customers is around shipping. First off is it discreet? and I think we've covered that with an emphatic yes! (see our packing video)
But a very close second is do I have to be home or will you post it?
We try our best to accommodate everyone and understand the hassles of getting packages delivered.
First off over 90% of our orders are shipped next day. So generally if you order today you'll have it tomorrow. We also manage to ship a large number of orders same day. If you order before 1pm we will generally get it shipped out same day.
We ask for an email address during checkout which is not mandatory but highly recommended as we will use it to notify any updates to the shipping schedule and to send order and shipping confirmations. We also need a phone number for the courier who usually calls to confirm delivery but we use the phone number to send a TXT shipping alert when we ship the order.
Just so everyone is clear I wanted to outline the different types of deliveries we do and why.
Courier Delivery – This is our standard route with over 90% of our deliveries going out using our Courier. We use Fastway Courier as standard and they give us a next day delivery anywhere in Ireland. Unless you have a specific reason to want a different route this is the cheapest and fastest delivery we have. This is also absolutely suitable for workplace deliveries and a large percentage of our orders use it. You will receive tracking details via email and best of all for orders over €20 its FREE!
DEPOT Collection – You can also request that the order remain at the nearest Fastway depot where you can collect it. To do this just put 'DEPOT Collection' as the first line of the address, followed by the rest of the shipping address. You can find your nearest Fastway depot here. We then ship it out as normal using Fastway.
An Post – If you prefer us to ship using An Post we will, but we do not make any guarantee on delivery time even though next day is still usually achieved. We also have no track and trace so delivery can't be monitored. The advantage of An Post is that it will be available for collection in the local An Post depot if they fail to deliver. We may also need to charge a surcharge for extra-large items and will call if this applies. To use An Post you need to email after you place the order to request it with your order number.
Parcel Motel – This is an increasingly popular option. We also ship to the Parcel Motel. To use this option you will need to register with Parcel Motel and then use your unique PMID number in the shipping address. Orders to Parcel Motel ship using An Post, so can't be tracked until they arrive at the Parcel Motel Depot in Dublin.
Collection – With our purchase of Scandalous in Kilkenny we offer the option to collect the order directly from the shop. Once you order it will be packed as normal and then left in the shop ready for collection. You would just need to bring your order number and the name on the order to collect it in-store at your convenience.
If you have any other special delivery request just call or email us and we'll try our best to accommodate.
Shipping with PlayBlue is discreet, safe and very fast. We are also very flexible and customer friendly. So rest assured when using PlayBlue we've got you covered.