Sometimes we just can't decide or would like to have a few options this is what makes sex toy kits are great purchases. If you fancy trying a little of everything or just not 100% sure what you like, Sex Toy kits or packs are a great way to bulk up you selection and give you a taster of a certain type of sex toy.
At PlayBlue we have a good few sex toy kits to choose from hopefully covering all the options ensuring there is a sex toy kit perfect for you.
Here are some of our Favourites.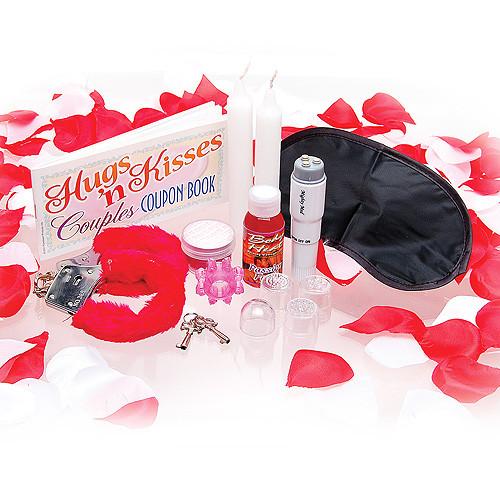 The Perfect kit for lovers that contains everything you'll need for a fun, erotic evening.
Petals, Satin Mask, Body Paints, Warming Massage Lotion, Furry Cuffs,  Vibrating Massager with interchangeable heads, Mega-Stretch Cock Ring and two Candles.This fabulous little Sex Therapy Kit for Lovers is a great Valentine gift, that can keep your relationship going long into the night.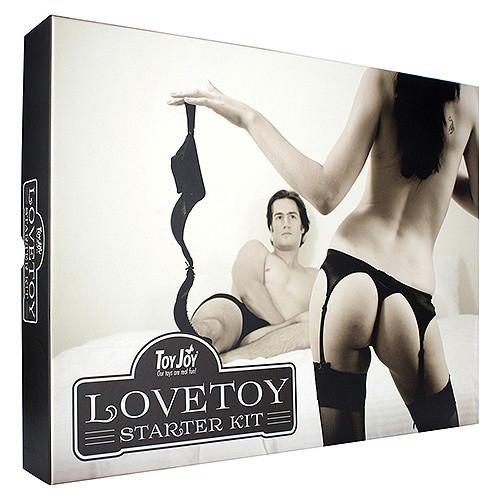 Explore the darkest fantasies of your mind with the toy joy starter kit. A great introduction to fetish sex play and presented beautifully, to make it a really great gift.
This elegant pleasure kit contains Cuffs, Cock Sleeve, Nipple Clamps Vibrator, Butt Plug, a Vibrating Egg, Love Balls,Vibe Cock-Ring, Leather look mask and Feather Slapper,
All surrounded by Red rose petals, Toy Joy Lovetoy starter kit is ideal for anyone who would love to try a little bondage play but is unsure where to start.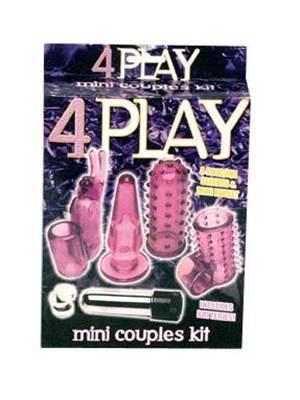 A simple vibrator based sex kit allowing you options to explore various style and sensations. It contains a chrome finish bullet, Multi-speed vibe which really delivers a powerful selection of vibrations.
Combined with the soft silicone rabbit sleeve for some great clitoral stimulation, or use the soft silicone anal plug sleeve, or the noduled penis shaft sleeve. There is also the nubby finger sleeve for a non-vibrating thrill. The choice is yours with this price friendly kit.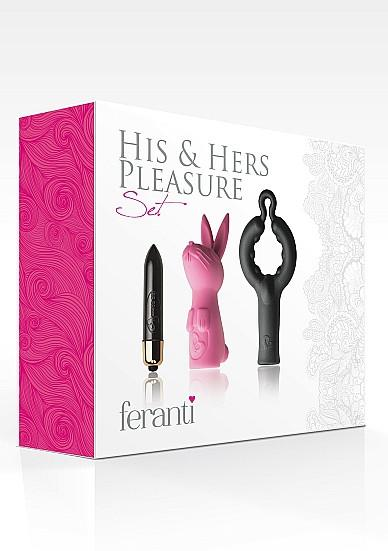 One of the selection of high quality beautiful Rocks Off sex toy kits containing a selection of their award winning sex toys.This Rocks Off Set includes Ramsey Rabbit Sleeve, 4US Sleeve (Vibe Cock Ring). Something for him and her this is a great sex kit that is all about couples.
And the powerful RO-80mm with 7 functions, 100% waterproof. A brilliant introduction to the Rocks Off quality.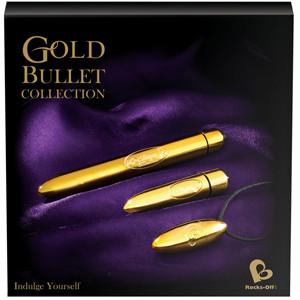 All that glitters is gold in this gorgeous trio set again from Rocks Off. Three intensely powerful bullet vibrators for different sensations and textures.
The collection contains RO-150mm Slimline, RO-Val and the Gold RO-80mm bullets.
Still the World's most powerful single speed bullet, the one touch operation and intense vibes.Rocks Off have brought us a beautiful Gold Bullet Collection for any occasion.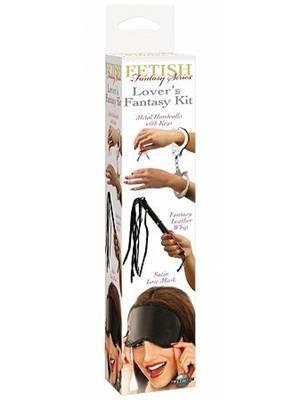 A great price for a brilliant introduction sex bondage kit. Perfect to try to see if you want to delve any deeper into bondage play.
This Lovers Fantasy Kit includes a small leather whip, Satin mask and metal handcuffs with keys.
Just what you need to get your kink on. For those that are still a little unsure whether this is for them I can only say you gotta start somewhere and this little kit won't break the bank yet you might just find something you really love.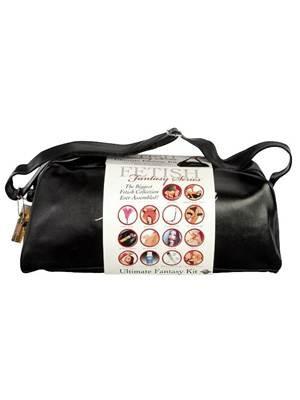 The ultimate Fetish Fantasy collection of everything you might possibly want or need for a sexy weekend of hot fetish fantasies.
The Ultimate Fetish Fantasy Kit includes Satin mask, Inflatable position master, Feather Tickler,First Timer Cuffs, Suction Cuffs, Cat  O"Nine tail whip, Hot Wax Candle, Ball Gag, Tether set, Bondage Tape, on-the-go keychain warming lotion, 1oz Moist lubricant, Waterproof Mini Massager, Do It Doggie Style Harness.
You really get the options to try a little bit of everything here. A great way to pad out your sexy kit and you can be sure this will be used over and over again.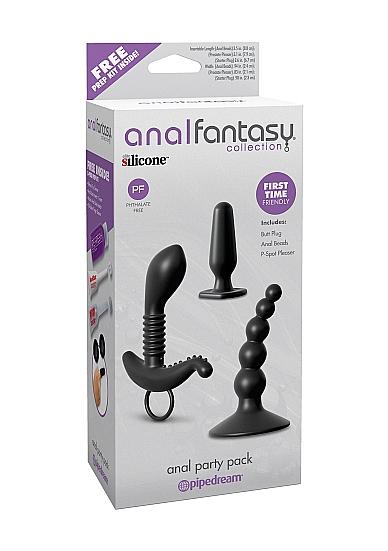 Our elite silicone anal sex party pack is made to play hard. Included are P-spot Pleaser, Anal Beads and Butt Plug.
The Ultimate Anal training Kit is silky smooth silicone and three of the best anal pleaser plugs at a really great price. If you have ever been a even a little Anal curious these are some of the best you can get at a magic price too.
We have loads more sex kits and if you ever need any advice of help on what to choose just ask we'd love to help.