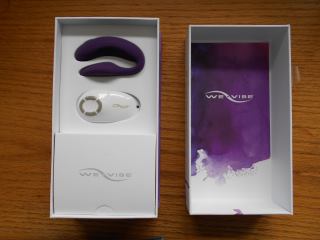 I decided to see what all the fuss was about with the new We-Vibe 4 so I took one home to test it out.

First off it is presented wonderfully in a small shoe box sized package. All very tastefully done, it would almost remind you of a high end mobile phone the packaging.

The full contents are the We-Vibe 4, the remote, the docking station, the USB lead and manual.

The manual is very concise almost a little worryingly concise as there are only about 7 pages or instructions. But really it couldn't be simpler.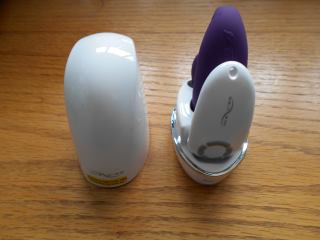 To set up take the docking station apart load up the We-Vibe and remote (not sure if this is really required but there is a place for it) and plug in the lead. I connected it to my computer but it will fit any standard USB compatible power plug. I have the patience of a child and when the instructions said charge for 6 hours before first use now that was never going to happen. After about 15 minutes I tried it and it worked.

The on button is on top of the large end of the We-Vibe just press it and it should start to vibrate. You then use the remote to control it.

Again we're not talking rocket science here it only has 4 buttons Up/Down to control power and Left/Right to control the vibration setting. The remote worked for me about 7 metres away, I didn't try it any further not sure why I'd need it to work any further!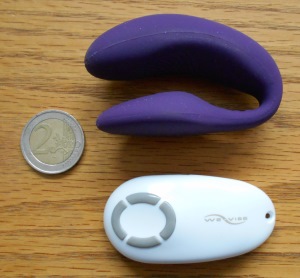 As you can see by the image on the left the We-Vibe itself is the shape of a flattened C with the smaller arm meant to be inserted. The outside of this arm is flat to make it smooth against the penis I guess. The larger arm rests on the clitoris on the outside.

When I first tried it I lubed it up well (water based lube) and carefully inserted the smaller arm. He wasn't around for this first go so I was flying solo. I switched it on and it really has focused the vibrations on the spots that count. The wireless remote is works a treat, as you can just lay back and cycle through the settings. I love the Wave setting, I also love how it has a motor in each of the arms and for me anyway was super simple and reliable.

As a solo vibrator this is great plenty of power for me, fits perfectly and the controls are easy enough to use to not get in the way of the moment.

As a couples vibrator it is unchallenged. It did need a full charge after my impatience but the manual says it'll go for 3 hours after a full charge, I didn't last that long ;)

To use it during sex is again almost too easy and eliminates all the messing you often get with toys. Just slim it in and well that's it. He can penetrate as well and it really is the best of both worlds. Clitoral massage, G-Spot massage and himself it really doesn't get any better.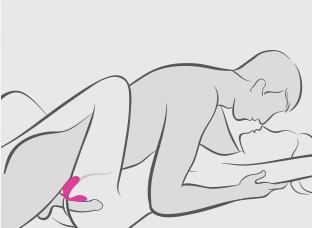 He initially found the vibration strange but once I switched it off as he enters and used a little lube he really enjoyed it after that, maybe it was just my reactions but it just works!

We've used toys before and sometimes we found the controls and solo nature of them kind of got in the way of our lovemaking rather then helped, but the We-Vibe 4 doesn't it is no more of an interruption then putting on a condom and it really adds an extra dimension.

Cleaning is again very simple as it's totally water proof so warm soapy water and leave to dry. It is stored in the docking station, all very slick and professional.

After a week we have yet to not use it during lovemaking, I'm not sure how long that will last but we both still are really enjoying it, I've also used it solo a couple of times once in the bath and it is now by far my favourite vibrator.

The We-Vibe 4 is a wonderful sex toy and really has been engineered to the highest standards. Everything just works and the offers a unique experience that you can't really get anywhere else. In my book that is as good a recommendation as you can get.