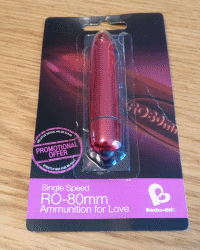 The Rocks Off 80mm Single Speed ammunition for love is the perfect little love bullet in metallic festive red. It arrives in the standard cardboard backed clam shell pack. The first thing you notice is it is shiny and very smooth to touch with a quality metal feel.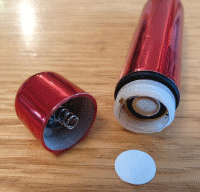 This is not a complicated toy and even the worst kind of gadget disasters can figure this one out. First you need to remove the battery cover which is simply a matter of twisting the base clockwise. There will be a sticker covering the battery which you need to remove to use and then as the batteries are already fitted you just replace the cap. Make sure the cap is tight and fully on to ensure a good contact on the battery.
Now for the tricky bit….just press the single black button at the bottom of the toy. A firm press for on and a firm press for off. That is the sum total of the controls no manual required it really could not be easier.
This bullet is also 100% waterproof but please make sure to ensure there is a really good seal on the cap for waterplay or you might damage it.
I know it's super simple but this is a little power house. I suppose it is a Rocks Off bullet, the company that invented bullet vibrators and supposedly the best selling bullet in the world but I was surprised at the punch it packs. No slow build up here as you cycle through the speeds, it is full throttle from the go which I found a little tough to start with but quickly I found my body caught up. It is also quiet and very discrete you could easily use it and have no fear of disturbing anyone next door.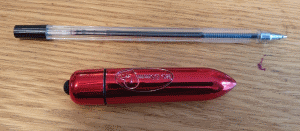 The little tapered tip is great for fine pinpoint stimulation but be careful you don't accidentally swallow it ;-)
Overall it is a fantastic bullet simple to use and clean (as it's waterproof) the power takes a little getting used too but if you are looking for a high quality discreet simple to use love bullet you will struggle to find a better one.
Buy it at Playblue - Rocks Off 80mm Ammunition for Love
Update - From now until Christmas Day (2016) this is free with every order over €5!!!!!