The Rocks Off RO-G-Spot is our next testing challenge.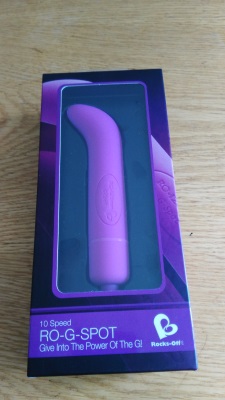 Rocks Off have been making fantastic vibrators for longer than I care to remember. The RO G-Spot has been one of our most popular so it was high time we ran it through its paces.
The packaging is very stylish and compact lacking the excessive bulge of some of its contemporaries, you know you are not dealing with a generic but a quality branded sex toy. On opening I was immediately struck by how soft it feels, like velvet but it is in fact a very firm vibrator. I feels like taught velvet and generally gives the impression of luxury. This is a rigid, firm vibrator with hardly any flexibility but somehow still manages to feel soft.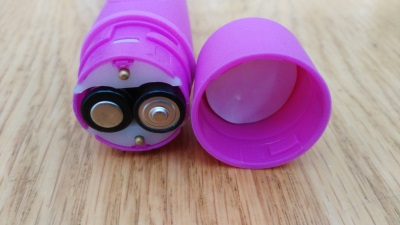 To get going with this vibrator twist the bottom cap off then remove the round piece of plastic blocking the contacts in the cap then replace the cap. Make sure to have it fully locked closed to ensure a good connection and watertightness.
Operation is super simple as there is only one button. Press the button to start it. Then press once to cycle through the speeds and finally hold the button for 3 seconds to stop, really it couldn't be much easier.
The speeds on the RO G-Spot are the deep satisfying kind not the tinny feeling you get with some of them, a small gripe I would have and maybe it's just me but the placement of the button makes it very easy to press in use and it can knock you off your flow as you need to cycle through the 10 speeds again to get back to the one you wanted again. Saying that I'm not really sure where else the button can be so it might be just me.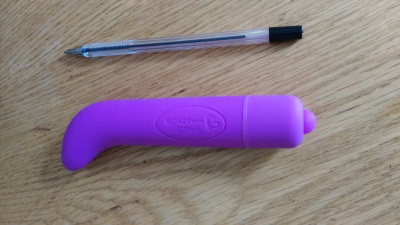 After use clean up is a snap as it is waterproof so warm water and a little soap and done. I would also have liked a little storage pouch too as most of the Rocks Off products come with one. But again for this money it really is hard to complain.
The Rocks Off RO-G-Spot is a touch of luxury at a very affordable price. It is a brilliant vibrator and an absolute snap to use. If you are looking for something to hit the perfect spot, you've just found it.