We decided we wanted to test one of our best selling realistic dildos and decided to roadtest the Basix 6.5" Suction Cup to see is it's popularity justified. At under €20 this is a not a toy that is going to break the bank and basix is a Pipedream brand so definitely not a yellow pack generic toy so a good start.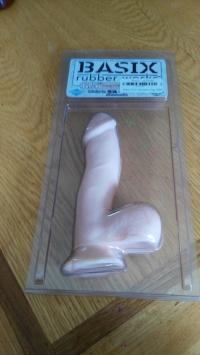 The packaging is all a little basic and really just does what it says on the tin. No fancy descriptions and marketing here, just a clear packet letting you know exactly what you are getting yourself into.
Made from 100% rubber once you open it you will always get that familiar rubber smell. Some people love it others hate it. Personally I'm not a huge fan and I would always advise a new toy is cleaned before use and once I gave my new friend a clean it was good to go.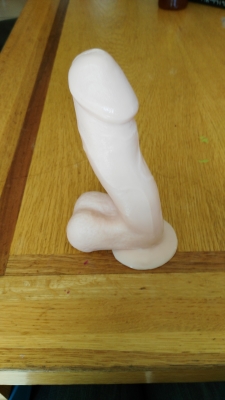 First touch it is on the soft side of firm with plenty of give. This is not a solid plastic style toy and feels quite realistic not perfect but for this price better than I expected. It is also very flexible, probably more flexible then a fully erect penis. The balls felt much harder than the real thing and were really just the same at the penis with a dipple effect. All in all I liked the feel of this dildo, flexible and firmly soft might be a fair way to describe it.
The size is probably about the average size of a real penis maybe a touch bigger but definitely not a size that would frighten anyone and probably too small for many. For me a perfect all-rounder size or beginner size. The suction cup held really well and worked exactly as you would hope, it never slipped once for me.
There is a nice feel to this and it holds really well during use. Any softer and I could see it buckling but I think this one managed to stay inside the sweet spot. I like a real lifelike dido and this Basix 6.5" had no veins or ridges and was definitely not trying to be super lifelike, if you are looking for realism it might not be for you, but it felt great and even when I withdrew to the head of the penis I still could easily slide it back in with ever increasing tempo.
This is a great penis dildo for the price, not perfect but very durable and the perfect size for regular use. I found it was everything you could want and expect in a mid-price suction cup dildo, maybe too small for some and maybe not realistic enough for others but this flexible lover doesn't pretend to be anything it isn't and hell it worked just fine again and again.