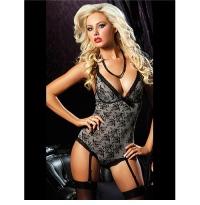 I'm going to try my best to not mention that book Fifty Sh… careful I almost said it there. I'm going to talk about a huge new section we are running at PlayBlue our Lingerie. To be honest we've always been a bit disappointed with our lingerie which is why it was always hidden away. It was expensive to get in and supply was erratic, well not anymore! We've just signed agreements with a few suppliers to ensure we have direct access to the best lingerie on the market at the lowest prices.

We've added hundreds of different lingerie items to our site in all shapes and sizes. I really don't know if there is a place in Ireland selling lingerie with a bigger selection but if there is I don't know it. All I can definitely guarantee is they're not doing it cheaper then us.

We've added whole product ranges from some of the biggest names in lingerie. The brands coming on-board as of today  are:-

Seven 'til Midnight – Sexy and luxurious lingerie for luxury and styling in the bedroom.

Daring Lingerie – Gorgeous smalls and costumes at affordable prices, sure to be a hit

Roleplay Clothing – The costumes and fantasy clothing specialist Roleplay Clothing for anything from fantasy sex play to fancy dress.

Magic Silk – Another sexy fantasy clothing house with slinky costumes and powerful fetish wear and bondage wear.

Electric Lingerie – Bodystockings, fishnet and sexy outfits and lingerie that will have you strutting your stuff.

Coquette – Wet look and PVC outfits and costumes for when you have a role to play and the cloths make the woman.

Fever Lingerie – The costumes and fancy dress kings, whether it's Alice in Wonderland or Sexy Sailor we have it.

Baby Got Curves – We love curves at PlayBlue so it you have it flaunt it we say. And this collection of lingerie will help you flaunt it guaranteed.

Black Level – More PVC for when a strong hand is required, you know who you are. Boots, Robes Trousers, Suspenders, Gloves, Corsets all in glorious shiny black PVC.

Sharon Sloane – The undisputed masters of the Bondage and Fetish gear for him and her.

Sweet Lover – Wonderfully colourful corsets and gloves and burlesque costumes you will just want to touch.

Sweet Streak – More fantastic lingerie collections in sumptuous fabrics and sexy designs.

Male Power – Sexy Posing Pouches and Novelty Boxer and Underwear to make him look good enough to eat.

Kitten & Zues - Sexy one Size fits all latex sexy gear for him and her. Get your Vamp on!

Phew, as you can see we've been busy working hard to bring you the best and biggest selection of lingerie money can buy. They are all live on the site waiting to help make your sexy fantasies come true.

Check it out if you get a chance, let us know what you think.

Update: We've actually dropped alot of these lingerie products due to irregular supply and quality. We have lined up a new supplier set and will be lauinching again soon