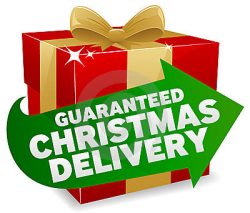 I was driving into the office yesterday, it was way too cold to cycle as I'm a real fair weather cyclist. Anyway I noticed a couple of council workers putting the Christmas tree up in the parade in Kilkenny and I kind of realised Christmas is only a month away!

Maybe it's me but I think it's been so low key this year the usual build up to Christmas that seems to start in September and really take off after Halloween seems to be a bit muted this year, which in loads of ways is great, I hate hearing Jingle Bells in October.

Well when I got into the office I had a look at our website and noticed it's been very under-stated in our joy at the impending festivities too. Well time to change that. We've just splashed it all over the homepage (no dirty minds please).

Our big message for Christmas is that we GUARANTEE Christmas delivery. With our new back-office systems and enhanced stock system we can now be absolutely positively sure we can satisfy you this Christmas.

In the off chance we don't have exactly the product you wanted we will call you with the offer of a very similar higher valued product to guarantee that delivery is in plenty for your little sexy Christmas treats. Shop with PlayBlue this Christmas, right up to our Christmas cut-off dates and you WILL have your presents under the tree Christmas morning.

We also have a huge selection of great stocking fillers and naughty Kris Kindle (never sure how to spell Kris Kindle??? Am I right?). A little sexy Kris Kindle for the office Secret Santa is always a laugh especially if it's properly anonymous.

Our lingerie section has some real fantastic additions recently that are sure to make Christmas nights a little hotter under the collar, the only problem will be getting out of the bedroom.

PlayBlue has you covered this Christmas with our prices, delivery Guarantee and selection where else would you sex shop?