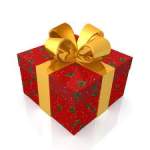 To the tune of the live aid single "Feed the World"
It's Christmas time ,
There's no need to shop outside
Shop online
With Playblue and Banish Pain
With our world of Sex Toys
You can have a sexy time
Share our joy It's Christmas Time
Feed Your Love, Let them know it's PlayBlue time
Feed Your Love, Let them know it's PlayBlue time
A bit over the top? Maybe and possibly in a little poor taste if you consider the original song but look it's Christmas time, your allowed mention it it's December. At PlayBlue we are really beginning to get that Christmas buzz and have put together a selection of get fun and sexy stocking fillers for €10 and under. Some of these are great for a naughty but funny Kris Krindle that is guaranteed to get the craic started.
We also know that a little bit extra in the bedroom doesn't have to cost a fortune so we've introduced a selection of Christmas present ideas for €25 and under. This is another reason why a little bit of lovin' under the Christmas tree this year doesn't have to mean a fumble covered in pine needles.
We have presents to suit every taste and budget this year at PlayBlue where we always wish you a peaceful and Blue Christmas.