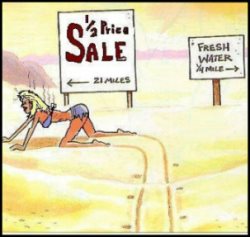 Gimmicks are a little tiresome aren't they?

In my opinion some of our competitors seem to spend their whole time focusing on Gimmicks and sales tricks instead of what they should laser focused on. They always seem to be having a 'Sale' or 'Special Offer' and I must admit it is sometimes easy to fall into the temptation to follow suit.

But at PlayBlue we made a decision way back when we started we'd follow the model of making our prices fair and as low as we can from the get go.

We don't do January Sales or Spring Sales or Valentines Sales or any sales we don't sell below cost and any savings we make as we grow we pass straight on to our customers in lower prices always.

This I still feel is the right way to go but it leaves us very little room for 'Sales' which we just don't do. You can take it at PlayBlue every-day is a sale, I have always thought shops that can run sales have just been trying to charge over-inflated prices and have failed.

We have made the concession of giving away free gifts with orders but this has been achieved with over a year of pressing our suppliers for lower prices and for them to offer us some products at super low prices for us to be able to give away free gifts. It wasn't a overnight gimmick and as long as we can offer free gifts and it doesn't become a burden that is exactly what we'll do.

We have been on another cycle of prices checks and have lowered the prices of 112 products though-out our shop in the last week. This is something we do very regularly and prices are under constant downward pressure. We usually don't even mention it, as long as we make a small profit on each order we just want our customers to get great products at great value and shop with us again.

So don't be fooled by these constant 'Sales' I find it all a little tiring and you can rest assured the price we charge throughout the year at PlayBlue is as low as we can make it.