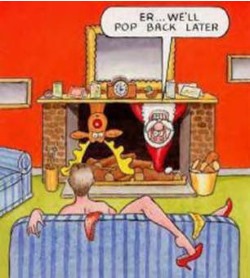 At PlayBlue we've just been infected with the Christmas bug, which has kind of happened a little late this year don't you think? There doesn't seem to be the mad retail buzz in the high street you'd usually get with Christmas less then 5 weeks away!
Well let's get the party started because from now until the 31st of December we're giving a free gift with every single order. No limits, catches or terms and conditions just place any order with PlayBlue.ie and we'll add in a free gift just for you to say happy Christmas. Good yeah?
We also added our Christmas section to the website to help with any one who wants to buy a sexy little surprise we have the best selection in Ireland. Whether it's a naughty like secret santa or a special erotic gift for that loving someone in your life. We have the selection prices and guaranteed delivery that ensures you will find something perfect.
PlayBlue has a great selection of PlayBlue Gift Packs too which are pre-selected selections of some of our favourite sex toys beautifully gift wrapped to make life almost too easy. You order these and we guarantee it's dispatched next day.
Finally for those last minuters or people who have no clue what to buy, we have the PlayBlue Giftcards. There are two choices either a card we'll post with the giftcard or if you want to have it within 5 minutes we have a virtual giftcard you can download and print. They come in value from €25 all the way to €200.
Christmas is all wrapped up at PlayBlue and whatever you do we hope you have a fantastic festive season full of fun, food, drink, laughter and of course plenty of …..