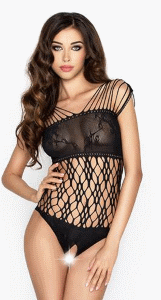 We have a unique and incredible offer with Passion Lingerie. Every purchase of Passion Lingerie (excluding Bodystockings) will get a Free Bodystocking. This is not a cheap throwaway either, Italian made and of the highest quality.
Passion Lingerie is our premium lingerie partner, European made and a huge selection of the best in luxury quality lingerie at PlayBlue prices. They have a great range of bodystockings and we have managed to get some of their best to include in this offer.
Just so we are all clear on how this offer works just purchase a piece of Passion Lingerie (excluding Bodystockings) and we will include a fantastic passion bodystocking, that's it! If you have never tried a bodystocking of want to just grab one this really is a deal that you can't pass up on.
There are no tricks or catches here, we haven't touched our prices so you are not paying extra for this and as I said this is one of their best no cheap giveaway. We have a good stock so we hope to be able to run this for awhile. Obviously when the free bodystockings are gone we'll take this offer down so if you are reading this it's still available so get yours today.
You can checkout the full selection of Passion Lingerie in our dedicated Passion Lingerie Section to see what we are talking about when we rave about Passion you won't be disappointed!
I know I'm flogging it now but I want everyone to be crystal clear, All qualifying Passion Lingerie Products will have the special offer highlighted and the Free Bodystocking will automatically be added to the basket. If a Passion product doesn't have the special offer it DOES NOT qualify. Also obviously even though through some trickery it is possible to have only the free bodystocking in the basket we will only ship it with a purchase of a qualifying Passion Lingerie item.