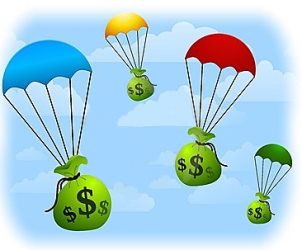 Yesterday the ECB dropped its interest rate to 0.25% and if you listened carefully you could hear the about 375,000 people in Ireland who have trackers cheer. So we got to thinking in PlayBlue what should these lucky souls spend their unexpected windfall on.

They could of course buy 3 bags of coal or pay off the minimum on the credit card, or pay off some little extra off the mortgage every month, or worse still just save it!

Alternatively you could visit PlayBlue and be amazed at how far that €40 will stretch.

You could get a fantastic pair of Remote Control Panties guaranteeing a great night out and in, or maybe our best-selling Ultra Seven Hummer Rabbit which is super versatile and reliable and is easily the best all around vibrator we sell.

Maybe you fancy a little bit of kinky fun? You could go for a Sportsheets Beginner's Bondage Kit which will let you explore you deepest fantasies. Have you ever dreamed of joining the mile-high club? Well prepare for it with our Fetish Fantasy Door Swing. Finally of course you could buy her a little sexy lingerie like the Merry Widow Set.

At PlayBlue you'll find something to spend that €40 on no problem and don't forget it'll come with free next day discreet shipping and you have the option to add a free gift at checkout it really doesn't get any better then that.. If it was me I know what I'd spend my €40 on.

The only problem now is to figure out what to spend next month's €40 on?