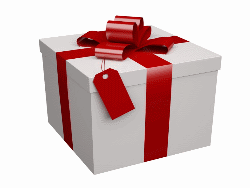 Buying a gift for someone at Christmas is probably the best thing about the whole festive season. Buying it in a sex shop is fraught with pitfalls and even the best of intentions can turn a little sour if you don't get it right. But it can also turn wonderful and you may receive back much more than you ever gave out in the first place!
So I thought I'd give you a few guidelines to help you through the minefield.
Buying for a workplace Kris Kringle
First off no matter how secret you might think it is, it isn't. You have to bear in mind you will be working with these people in the new year and buying something that causes someone serious embarrassment is just not a great idea. Remember you are going for a laugh with maybe mild shock and the mention of sex and workplace is a legal battlefield especially if you are the boss.
My advice go for humor from our novelties selection or some very light fetish gear like a whip or mask or even a gag! But err on the side of caution.
Buying for a family member (not spouse)
I would suggest most families would find this strange but personally I would buy something for my sister from a sex shop. Again I'd say don't go too explicit like Butt Plugs or Anal Toys. Around the Christmas tree with Granny Christmas morning I'm not sure it's going to go down too well.
My advice is humor again or lingerie.
Buying for Partner
Well here you should have a lot more scope. First off a surprise Christmas present of a Strapon Vibrator is probably not ideal especially if you've never even discussed anything like it before. Also if you open presents in an family around the tree scenario make this present a private one in bed Christmas morning.
Go with couples toys or lingerie or maybe a little fetish roleplay. Of course you can always go for the humor too which are always great ice breakers Christmas morning and you are sure to get the day off to the best of starts.
So too roundup don't embarrass anyone, think about everyones tastes and try not to give granny a heart attack before breakfast. And finally don't spring any totally new sexual appetites on your partner on the big day! Leave that for Stephen's Day!
Enjoy and have a great and sexy Christmas day!