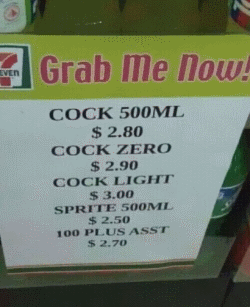 I was in Dublin the weekend and was walking around town. Like a typical shop owner it turned into a little survey of prices and products in the Dublin sex shops.
I've talked about it before but I was stuck at how some people choose to do business, it's just so shady to say the least.
In danger of repeating myself but when you trade in Ireland you really can't afford to dirty your bib, you need to be an honest broker in all dealings as customers are limited and word of mouth will kill you if you try to take advantage or cheat.
Also you just won't feel good about yourself doing it!
Anyway back to the weekend where I noticed a shop in Dublin selling a "Fleshlight" for €39.95, bargain of the century! They also had a "Doxy Massager" for €79 another incredible offer.
We sell standard Fleshlights for €69 and this is the cheapest authentic Fleshlight you will get, we couldn't even touch €39.95 and hope to stay in business.
But it is definitely a case of buyer beware because as I sell these products I know what a real Fleshlight looks and feels like and the object that was selling as a "Fleshlight" in Dublin was its poorer plastic emancipated second cousin, if it would last a week I'd be surprised.
The Doxy which we sell for €129.95 is also the best priced authentic Doxy you can get. The thing that the nameless shop in Dublin was selling was a piece of Chinese junk that I'd be terrified to use in case it burns something sensitive…
I got talking to the guy behind the counter and commented on how cheap the Fleshlight  was and he told me they had only a few left and I'm better hurry as the next shipment from China wasn't in for a couple of weeks.
Now again maybe because I know about this stuff but Fleshlights do not come from China. In Europe as a retailer of real Fleshlights I know I can buy them directly from Fleshlight in Spain or from the local Country distributor which for Ireland is based in the UK, that's it, no China I'm afraid.
My advice as always is shop around and trust your instinct. You wouldn't by a Drill from Blue & Decker for a fiver as you'd know it was useless. You wouldn't buy a TV from Suny for €49 and expect it to be any good, so if you see a shop or online store selling a sex toy at a stupid low price it is 99% likely to be a cheap Chinese knock off that is liable to leave you less then satisfied.
At PlayBlue we only sell products sourced from the main suppliers or manufacturers all originals, all authentic. We'd never deal in this kind of junk because we want happy repeat customers not frustrated angry complaints!