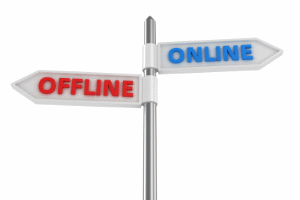 Why Do People Not Shop Online?
That is a question that we spend a ton of time trying to get to grips with in PlayBlue. Last year in the US only 7.34% of purchases were made online, we can assume at best in Ireland we're close to this number probably a good bit lower.
Why are still the vast majority of people buying offline?
Prices online are cheaper (generally), delivery is now free with most reputable retailers, returns and customer service is often better online and choice and convenience are surely much better online, so why?
Maybe it's because loads of people don't have access?
Broadband rates in Ireland are approaching 90% and over 84% of Irish people access the internet daily either on a smartphone or a tablet or PC, and these numbers are moving constantly toward 100%. So let's face it nearly everyone has access to PlayBlue.
The Shopping Experience is Better Offline
We also own an offline store so we feel we can comment here too. The people who come into a sex shop in Ireland (especially rural Ireland) tend to be either confident and couldn't care what people think or like frightened puppies who rush in and rush out. The Confident people usually have checked out online prices and products and know exactly what they are looking for. The frightened puppies don't want to talk and would rather be nearly anywhere else.
The shopping experience is something neither is cherishing. Only a certain select few people in our years of experience enjoy going into sex shops, the majority will either go in once or twice to see what it's like or never come in at all.
Of course you are all invited down to Kilkenny to sample our huge product range too, don't worry we don't bite!
Fears about the Delivery
This either means the customer is terrified the postman will know what is in the package or fears someone else will open it.
Well at PlayBlue we double pack all orders to ensure they are totally secure. There is no way for the courier or postman to know the contents or who is sending it.
The parcels are also marked PRIVATE & CONFIDENTIAL very clearly. Our courier will not leave the parcel with anyone else unless you have specifically allowed it.
Finally if you are still worried we offer a couple of collection options like Parcel Motel and Depot Collect. Check out our full delivery details
People Can't find PlayBlue
Google owns search in Ireland with almost 97% of the market!
PlayBlue is always at the top of the Google paid and unpaid search results for any adult store related search.
This is not bragging it's just fact, We are also by far the largest Sex Shop in Ireland. The vast majority of Irish buying online are buying from us.
In Shop Specials & You can Haggle?
First off PlayBlue will beat any offline sex shop like for like guaranteed and usually be a very wide margin. OK a shop may have the one off special on a product that might make it close in price but that is so unlikely. Also PlayBlue have constant specials and sale items and free gifts, free deliveries etc.
You can try and haggle in store in most shops and most shops will usually try to work with you. But when you are talking 50% cheaper at PlayBlue, it is going to take some haggling.
We set our prices fair and as low as we can to begin with.
We only sell originals, no knock offs, all sourced from the actual manufacturer or the main distributors.
Access to in store Experts and product knowledge and advice?
This is PlayBlues big advantage. You can chat to us online for instant answers or call us (056) 7723434 for advice and product knowledge and we'll be delighted to help.
We have experts in store and online ready to help. These experts have access to thousands of products and will know the best product for you and not try to just sell you the one they have, because we have them all. Our staff on a daily basis handle hundreds of products and we have the biggest database of user reviews in Ireland.
If you go into another offline store their selection will be no where near PlayBlue's and generally the person behind the counter never the access to the knowledge and product range and experience of PlayBlue staff so will just not know the best product for you.
We have the best, most knowledgable, enthusiastic staff in the industry who know more about the products and will not just sell you what they have, they will sell you the perfect product either online or offline. This has taken years to build up and nurture and is something impossible to fake.
Any question? Contact us!
Fears about Security?
I always thinks banks and the media over blow fear about security when shopping online. I used to actually work in AIB credit card and know the protections in place for the customer.
First off obviously don't give your credit card or debit card number to absolutely anyone, that is just asking for trouble.
At PlayBlue all our payment providers are large international third parties. We use SagePay for credit card payments and PayPal for other payments. Both are processed on their websites so we never see the card details..
All I can say is that in the case of any issue with a payment just contact your card issuer and you will get a refund where the payment is fraudulent. Any concern with a transaction with PlayBlue talk to us and we'll resolve it guaranteed.
I would say handing your credit card to a person in a shop or restaurant, it is actually easier for them to take the details then if you use us, as we never even see them!
Buying online from the UK?
Without a doubt our real competition. We have a few advantages though.
First our prices are easily as good and usually a little cheaper because of the price of sterling at the moment, our delivery is obviously much quicker as we ship most orders same day. Generally (around 95%) of orders arrive the day after they are ordered, the UK you are generally talking about 4-5 working days (a week).
We have a selection to rival any UK website and customer service too that understands and is committed to the Irish market and wants to help.
What about the Future?
Without a doubt online purchases are going to grow. It is estimated by 2020 that 20% of purchasing will be online and the growth won't stop there. We want to make sure PlayBlue is the obvious choice for your online sex shop purchases and have a few ideas to make this even easier in 2016!