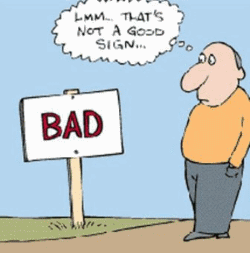 I met a friend today in a cafe in town for a coffee and I was a little early. I noticed on the front page of the Irish Times and a new report on consumer problems at the bottom of front page and it was truly shocking how badly consumers are treated in this country.
I've always thought it was because we kind of always accepted half efforts the 'ah sure it would do a Paddy' mentality.
Well it seems 54% of companies you contact with a problem with a product or service you get no response, nothing, no contact, completely ignored. And then 1 in 10 people have spent over 10 hours trying to solve a product or service problem in the last 12 months. Think about that, over half the companies in Ireland don't even bother to respond to complaints and some people are spending more than a full working day trying to get a problem sorted. Just incredible.
At PlayBlue we do things very different. Even if we are a sex shop there is no reason but to supply the best service you can. Even Ryanair have figured this out.
We try to make it as simple as possible, we have one phone number (056) 772-3434 which we man from 10am-6pm six days a week and then on Sunday from 12am-6pm. Our email system is of course available 24/7 and respond to every one usually within an hour and definitely inside the day.
Look these are the most common scenarios we deal with and it should never take more than one call or email to resolve with PlayBlue :-
If you order and change your mind before we ship, email us or call us and we'll cancel the order and refund it no problems, but be quick as we ship most orders same day.
If you order, we ship and you change your mind, just send it back to us in a re-saleable condition and we'll refund it but we do reserve the right to deduct a shipping fee from the refund, which is fair enough yeah.
If you receive a product that doesn't work, email or call us and we'll try to help you to get it working, failing that we'll ask you to ship it back to us for an exchange.
If you are not satisfied with a product but have used it then call us and we'll advise you and probably try our best to help you in any way we can.
We want to be fair and will always try our best to be, I said it before and I'll say it again Ireland is a small place and even running an online sex shop we need repeat custom to survive so we have to treat the customers we have as fairly as we can. We also want to make buying online sex toys as easy and painless and stress free as possible.
So if you have a problem call us or email us, we don't bite, click to see our full contact details and our full returns policy is on the returns page but is basically outlined above.