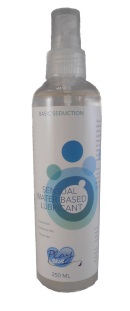 At PlayBlue we are always trying to do better. Better prices, better products, better service whatever. Maybe it's just us being cocky but sometimes we just think when we get a product 'We could do better than that'
Well we have been saying it too long and basically doing nothing about it, until now.
We are delighted to announce the launch of PlayBlue Sensual Water based Lube. We have been working very closely with our manufacturer to make sure we have the best quality water based lube you can buy.
And because we are creating this lube the cost to us is even lower than normal so being PlayBlue we of course pass on all those savings to you.
Normal run of the mill lubricants especially at the lower end can fall down in a few ways, either vanish too quick so you are constantly applying, or worse congel to make it very unpleasant feeling or leave a chalky or sticky residue or smell, all not what you want.
PlayBlue Lube is fragrance free, water-based long lasting but not gluppy. It will leave no residue and is totally 100% skin kind.
We also offer it in a very generous 250ml bottle so no need to scrimp on using it as we have loads to go around.
To make sure this wasn't purely our opinion we gave 50 loyal longtime customers a free bottle to test out and review (which we've published on the product) and almost universally our customers loved it.
Some of the comments were "Far exceeded expectations", "Love it Love it Love it"
We are really proud to be launching our own lube and we are sure you'll get much more than you expect with this. We would also love to hear about your experience in the reviews of the product, enjoy!
To learn how lubricant can help improve your sex life please read our Lubricant Guide